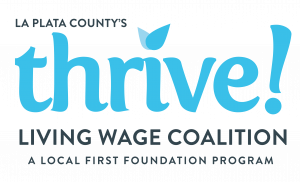 Working for just wages and a brighter future for the people of La Plata County
Thrive! is a coalition of local workers, employers, elected officials, and public partners who care about the long-term economic health and social well-being of La Plata County. Our Mission is to enhance the quality of life in La Plata County through fair and just wages for all. We envision a diverse and sustainable economy that produces the opportunity for business growth, meaningful work and livable wages.
We believe that when working people earn a living wage, it enables individuals, families and the entire community to thrive.
Perhaps one of Thrive!'s most recognizable initiatives is our Employer Recognition Program – a voluntary certification for local businesses that identifies and celebrates employers who are paying a living wage for all their employees. You may have noted the iconic Thrive! sticker hanging in the window of some of your favorite local businesses or posted proudly on their websites. Since it began in 2014, the recognition program has certified a coalition of over 100 businesses, and momentum continues to grow.
A living wage takes into consideration the true cost of living in La Plata County – factoring in housing, child care, food, healthcare, transportation, taxes, etc. – so we can understand what value is needed to accurately support the workforce we depend on.
Better quality of life for individuals and families

Increase in local sales as workers are able to afford more goods and services

Increased sales drive job creation & economic growth

Decrease in employee turnover, saving employer training expenses

Satisfied employees will be more productive, increasing product quality and customer satisfaction

Tax expenses for social safety nets such as Food Stamps and Medicaid will decrease
Frequently Asked Questions
2019 Certified Living Wage Employers
Absolute Physical Therapy
Adaptive Sports
Alpine Bank
AREM Property Management, Inc.
ASAP Accounting & Payroll, Inc.
Atlas Specific
Axis Health Systems
Bank of Colorado (La Plata County branches)
Bright Day Orthodontics
Brookie Architecture and Planning
Columbine Landscapes
Community Connections
Community Foundation serving SW Colorado
Desert Sun Coffee Roasters, Inc.
Durango Adult Education Center
Durango Car Care
Durango Early Learning Center (Aspiring)
Durango Natural Foods Co-op (Aspiring)
Durango Outdoor Exchange
Durango School District 9-R
Durango Urgent CareYour Content Goes Here
Early Childhood Council of La Plata County
Eolus Bar & Dining
Grassburger
Great Old Broads for Wilderness
La Plata County
La Plata Family Medicine Associates
La Plata Youth Services, Inc.
Local First
Manna Soup Kitchen
Marley's Angels Cleaning Services, Inc.
Mountain View Family HealthCare
Oak Family Dentistry
Ore House
Pediatric Associates of Durango
Region 9 Economic Development District
Rivergate Pharmacy
San Juan Basin Health Department
San Juan Hand Therapy
Sante
Serious Delights Bakery
Shanta Foundation
Ska Fabricating
Solar Works LLC
Southwest Midwives
Specialists in Women's Care, PC
Spine Colorado, PC
The Garden Project of Southwest Colorado
The General Palmer Hotel (Aspiring)
The Payroll Department
The Wells Group of Durango
Think Network Technologies
Unitarian Universalist Fellowship of Durango
Women's Resource Center
Yoga Durango
Zia Taqueria