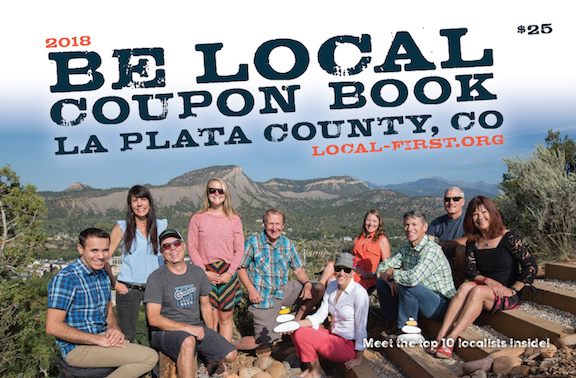 In anticipation of the 10th annual Be Local Coupon Book release coming up the week of November 20, Local First is happy to introduce you to our first-ever official Localists. A Localist is our fancy word for an individual who lives and thrives in La Plata County, walking the talk of supporting our local economy and inspiring others to do the same. They're business owners, entrepreneurs, media gurus, restaurateurs and outdoor adventurists, just like you.
How did we choose them, you wonder? We asked the community to nominate 10 folks they thought best represented our local scene. Out of 58 responses, our Localist Committee then chose 10. Here are two more of this year's Localists:
Charles Shaw: The Smiling Building  
When Charles Shaw purchased the old junior high edifice on 3rd Avenue in 1997 with his wife and brother, some folks were skeptical. What would this trio do with the yellow-brick, 45,000-square-foot Smiley Building built in 1936? Why, transform it into an energy-efficient, solar-powered community center for arts, education and creativity, of course.
The Smiley Building has since grown into a hub for locals, featuring a cozy cafe, home for a number of entrepreneurs and small businesses and classes ranging from yoga to martial arts, ceramics to photography, dance, music, web design and more. Perhaps Charles' greatest pride though are the incredible efforts they've gone to make the building sustainable.
Photovoltaic panels supplying all the building's electrical needs and solar-heating panels supplying hot water and winter heating needs to the building have reduced energy costs from $5,000 per month to $400 per month. These nifty additions produce enough energy to feed clean power back into the local electrical grid.
"For me, [being a Localist] means working hard to make Durango more beautiful and an exceptional place for people to live and work," says Charles.
Dave Thibodeau: Brewer with a Running Problem
When punk high school kid, Dave Thibodeau, found his dad's recipe book for homebrewed beer in the family's basement, the 17-year-old had no idea where those debut suds would lead. What started as a passion project grew into Ska Brewing – named after the music that inspired those initial basement brew sessions Dave and his dad ran with Dave's buddy, Bill Graham.
In 1995, Dave and Bill partnered with Matt Vincent to officially launch Ska Brewing. Twenty-two years later, these masterminds are seen as true pioneers in the craft beer industry with killer brews, brilliant marketing campaigns and a drive to keep their beloved business local. These days, Ska's 33,000 barrels brewed each year can be found in 10 states, the UK and even Sweden.
To balance out his love for good beer, Dave spends his time cooking vegetarian meals and running with his wife and daughter. The outdoorsman is just as stoked about Durango's trails as he is about growing a business here.
"[Being a Localist] is really about health: personal health, family health and the health of our community," says Dave. "Focusing energy on our community helps build a strong, healthy foundation…The vision is global. It simply starts here at home."
For more from our interviews with Charles and Dave, pickup a copy of the Be Local Coupon Book starting November 24th at your go-to retail shop!