By now, you might have a pretty good sense of what the clean energy future looks like, at least from a technological standpoint. Maybe your neighbors are installing solar panels on their roof, or you've started driving a hybrid or electric car for your daily commute. But there's a lot going on behind the scenes in the energy transition that might be less apparent. A key trend is the shift from top-down ownership and control of our energy system toward greater "people power." So what does this mean?
From centralized to decentralized energy
Most Americans still get their electricity from a relatively small number of big power players— utilities that, together with governments, set the rules for how energy is produced, distributed, and valued. But the growth in distributed energy resources—a fancy phrase for technologies like rooftop solar, electric vehicles, and energy storage—allows us to keep energy local, offering a chance to flip the current model on its head. Distributed resources, like solar and energy storage, can save us money on electricity costs, reduce pollution, and boost local economies, while being scalable and ready to deploy now.
Distributed resources, like solar and energy storage, can save us money on electricity costs, reduce pollution, and boost local economies, while being scalable and ready to deploy now.
By 2025, the combined capacity of these energy resources in the United States is projected to reach 387 gigawatts, driven by a whopping $110 billion in investment over a five-year period. Communities are embracing distributed energy as a way to tackle climate change and boost local resilience in the face of extreme weather events like wildfires and hurricanes. Falling costs for solar panels and batteries have made distributed resources increasingly affordable, especially when coupled with tax credits and rebates that soften the bite for everyday Americans.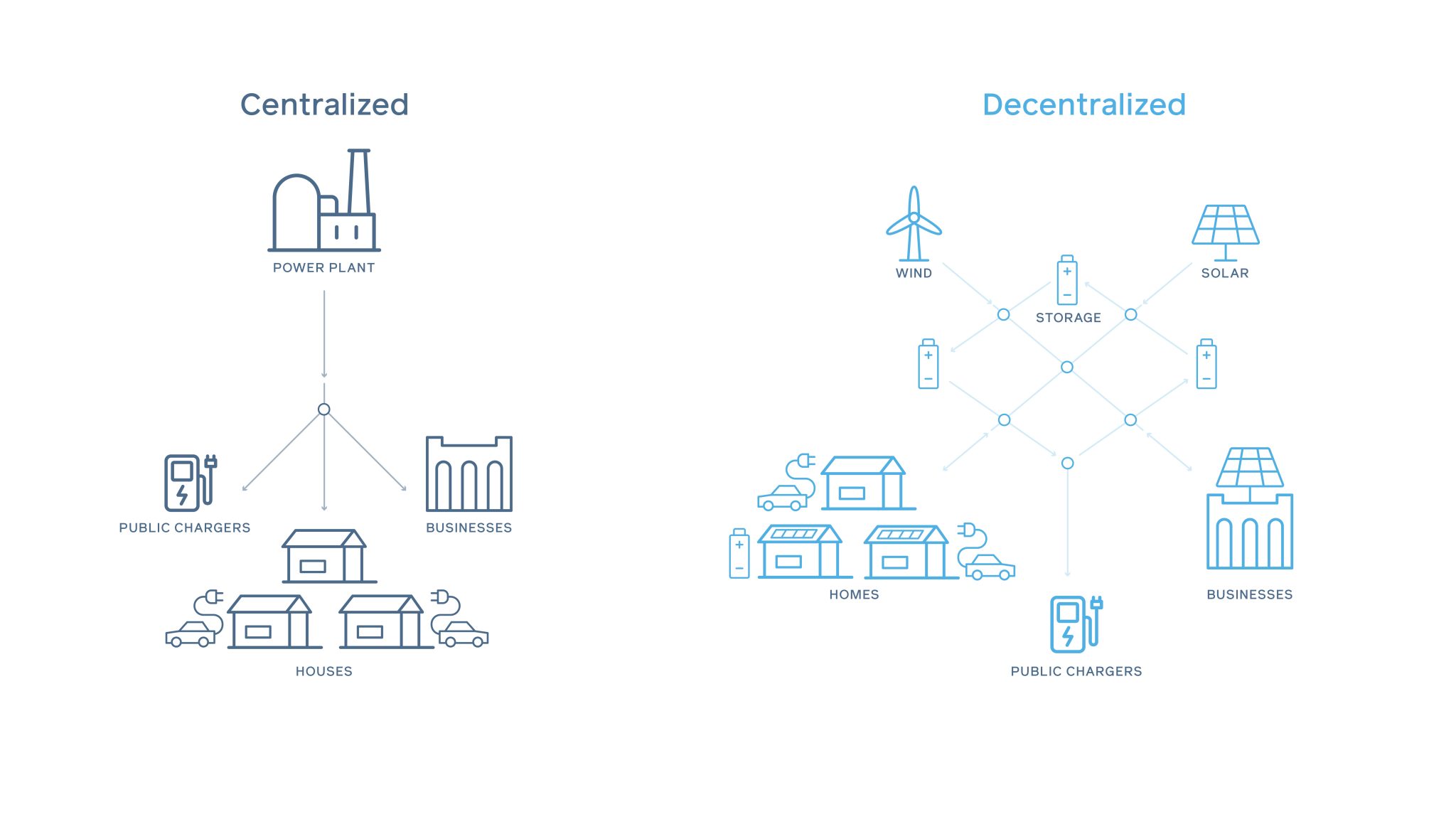 Power to the people
Distributed energy resources empower us in other, critical ways. Under the current energy structure, power monopolies have an outsized voice, not only influencing how the rules are made (and who they benefit), but also holding sway over our elected officials through lobbying dollars. Power companies typically extract wealth from our communities, with our utility bill payments leaving the local economy. The existing energy system isn't just unfair and undemocratic—it reinforces centuries of structural racism, with the highest energy burdens falling on low-income communities and communities of color.
The shift to distributed (decentralized) power can change all this. It creates opportunities for more dispersed patterns of ownership and control of energy production. It allows for a more democratic energy system where "we the people"—local communities, businesses, and households—take back our power by producing our own electricity. We gain more leverage in the energy system by being involved in the planning, funding, management, governance, and execution of clean energy projects.
Greater people power can also lead to more equitable energy outcomes, helping to address race, class, and gender inequalities and enabling a just transition to a decarbonized energy system.
Examples of people power
The possibilities for energy democracy are diverse and growing. Here are just a few examples:
Accelerating energy democracy
Despite the vast opportunity, many distributed energy technologies remain inaccessible or unaffordable to folks who lack the financing or who live in rental properties. To overcome some of these barriers, the 30 Million Solar Homes partnership aims to power 30 million U.S. households (about 1 in 4) with rooftop or community solar over a five-year period, including in historically marginalized communities.
Power companies can support distributed clean energy by embracing new business models, like solar leasing, that share more of the benefits locally. The role of utilities will change with the shift in energy ownership. They may soon be paying us to access the distributed resources in our buildings, rooftops, and cars. As they strive to meet our preferences and demands, their political influence may weaken.
Governments can facilitate energy democracy by supporting communities in the design, ownership, and management of energy systems. This includes embracing policies like net metering that compensate local producers, and supporting community energy projects through low-interest loans, preferential procurement, and by providing access to public spaces. Governments can also enact regulations that mandate the integration of local, community energy into neighborhood developments.
With the growth in distributed energy resources, it's time to take control of our energy system. Ideally, we'll get to the point where we can fully design our own energy mix, selecting the specific projects that generate the energy we want—whether from our own rooftops, from a neighbor's solar installation, or from a local wind farm. With this shift in power, we could usher in an era of true energy democracy.